Why Pursue A Degree In Tourism & Hospitality?
Top 5 reasons to choose CCSU's THS degree program:
Travel! This major allows you to travel and live abroad as much as students desire.
Business Focus: Twenty-one business class credits built into this major – a must for upper-level THS industry jobs.
Economical: Quality education with arguably Connecticut's most reasonable 4-year degree price tag.
Great Job Prospects: The THS degree allows graduates to climb the career ladder into management beyond the glass ceiling experienced by those employees without a degree.
Small Class Size: Upper level THS courses are typically smaller than 25 students. Students are more than a number at Central.
Tourism is the largest industry in the world, and our students are getting jobs--even in the present economy. The tourism, hospitality and leisure industries surpass trade in oil, steel, and armaments in total dollar value and in employment created. For an overview of the state of tourism worldwide click here.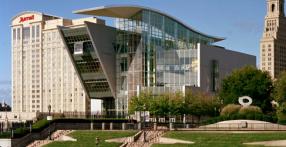 Adriaen's Landing, Hartford, CT
According to a recent study from the University of Connecticut Center for Economic Analysis, the Connecticut tourism industry generates $11.5 billion for businesses annually and $1.2 billion in state and local taxes.
Connecticut is in the process of changing its image from a transit state between Boston and New York to a significant destination in its own right. The development of Foxwoods and the Mohegan Sun casinos, two of the three largest casinos in North America, are an indication of this change.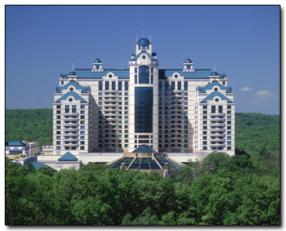 Foxwoods Resort Casino, Mashantucket, CT
As tourism increases in importance, tourism-related employment needs will also increase. Airline operations, hotels, car rental agencies, food services, tour operators, chambers of commerce, convention bureaus, corporations, and attractions are just a few examples of the types of agencies and organizations that will all be affected by the rising tide of tourists to Connecticut.
Career opportunities in tourism abound as the industry strives to meet the needs of today's travelers. While employment in the traditional sectors (e.g., hotel/resorts, cruise lines, airline operations, food services, and theme parks) continues to grow, opportunities are also expanding in alternative enterprises, such as medical tourism, ecotourism, adventure, educational, heritage tourism, and dark tourism. These market niches have created an additional demand for skilled, management-level employees in both the private and public sector.
The nature of today's tourism industry means greater career opportunities for those qualified and ambitious individuals who are willing to commit the time and energy needed to excel in this exciting and growing field. THS @ CCSU is designed to prepare students for management level positions in this competitive field.
Further Reasons to Choose CCSU's THS Program:
The THS program welcomes transfer students. We work closely with our state community colleges, many of which offer Culinary and Food Service specializations that are easily transferred to CCSU.
The THS program at CCSU offers students a flexible, innovative curriculum designed to produce quality professionals who will become tomorrow's tourism and hospitality industry leaders.
Our interdisciplinary approach borrows courses from both CCSU's School of Business and School of Arts and Sciences. A THS degree combines a liberal arts education with business fundamentals--a perfect combination for today's competitive marketplace.
The THS program provides access to scholarships, study abroad programs and research opportunities that enhance students ' educational and career goals.
The THS program welcomes nontraditional students and returning students--especially those seeking to advance existing careers or start new ones.
Students can choose the degree program that best matches their career interest and goals: Bachelor of Arts in Geography/Tourism or Bachelor of Science in Hospitality/Tourism.
The THS program offers students personalized attention, small classes, and internship/career opportunities supported by excellent advising and career guidance.