Study Abroad Scholarship Fund
"It changed my life!" is the most common answer we hear when we ask the question "How was your study abroad experience?"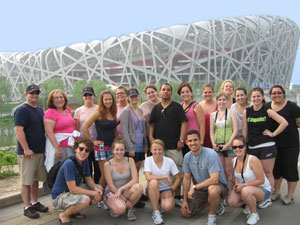 Central Connecticut State University prides itself on graduating globally competent students who have the knowledge, skills, and attutudes not just to survive, but to thrive in today's increasingly global community. Our study abroad program is one of the largest in the nation; our short-term faculty-led program ranks among the top 20 in the U.S.!
Your gift to International Education at Central will enable both fill- and part-time undergraduate and graduate students to pursue unique and relevant study abroad programs sponsored by CCSU around the globe.
Give a gift, change a student's life...
"There is nothing like experiential learning when conducted by responsible, intense professors who love their fields of learning and who have the academic credentials to produce a life experience. The course work will become a pary of my life experience"
—Anonymous, Participant in Spring 2011 Course Abroad to Germany

Click here and select Give Now
Under "Apply my gift to" select International Education