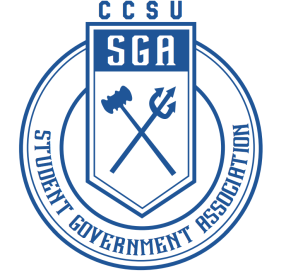 Welcome to the Central Connecticut State University Student Government Association website. Here, you will find information concerning the SGA including news, agendas & minutes, senator & officer biographies, information about our committees and much more. Navigating our website is easiest using the menu bar on the left. Thanks for visiting us online. To visit us in person stop by the Student Center, room 211, located on the 2nd floor, directly above the info desk.
About the SGA
The Student Government Association is for everyone who would like to help make CCSU the best it can be. The full-time undergraduate students of CCSU make up the membership of the SGA. The SGA Senate is the representative body of the SGA. Its members, the executive officers and senators of the SGA, are democratically elected by the undergraduate students of CCSU. The SGA senate is responsible for acting as the voice of the students; we handle their concerns, needs and celebrations.
The SGA Senate is also responsible for promoting student participation in the various projects, committees and organizations at the university, state, and national level that help shape the university and education in Connecticut.
The SGA Senate allocates the SGA portion of the Student Activity Fund that is paid by all full-time undergraduate students. The Student Activity Fund is used to promote and fund student clubs, activities, services and forums for the benefit of the students and their educational opportunities.
If you would like to get involved or would just like more information, contact the SGA at 860-832-3740, or via email at MySGA@ccsu.edu, or visit the office in Room 211 in the Student Center. Come and join us at our weekly meetings on Wednesday at 3:05 in the Bellin room of the Student Center.
Come visit our office in the Student Center Room 211, located upstairs directly above the Information Desk.