Fiedorczyk Lecture in Polish American Studies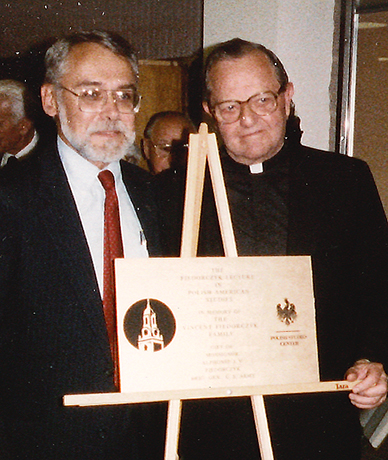 Monsignor Alphonse J. V. Fiedorczyk viewed service to the Polish community as an integral part of his ministry and was deeply concerned with the preservation and promotion of the history of the Polish community in America. He was among a group of talented, dedicated prelates who served the state's Polish Catholics. As second-generation immigrant children, they observed first-hand the transition of their parents and the incorporation of their ethnic roots into American culture. But, they were more than observers, they chronicled the transformation and contributed to it significantly.
The son of Polish immigrants, he was born in New Britain, Connecticut, on September 10, 1910. He attended Sacred Heart School in his native parish and later graduated from St. Mary's College at Orchard Lake, Michigan. He then studied at St. Bernard Seminary in Rochester, New York, and at the Seminaire de St. Brieuc in France, which he completed in 1935, the year of his ordination to the priesthood. Father Fiedorczyk returned to his home parish to serve as a curate for eight years.
In 1943, he joined the U.S. Army Chaplain Corps. Lt. Fiedorczyk served as a chaplain with the 79th Infantry Division in Europe and was decorated with the following honors: The Legion of Merit, The Bronze Star, the French Croix de Guerre with Fouragere, and the World War II Victory Medal. He also served in Korea and two postwar tours in Germany. After 26 years of military service, he retired with the rank of Brigadier General. Msgr. Fiedorczyk returned to Connecticut to the Bridgeport Diocese, where he was subsequently assigned to Holy Name Parish in Stamford. He served fourteen years as pastor and was a critical figure in the revival of the Parish's Polish profile.
First and foremost a priest, Msgr. Fiedorczyk always kept in the forefront during his 52 years of service the injunction ''to preach and to offer sacrifice.'' He endorsed the proposal of his friend, Msgr. John P. Wodarski, and encouraged the Association of Polish Priests of Connecticut to commission Immigrant Pastor by Prof. Daniel Buczek, an important biography of the pioneering Msgr. Lucyan Bojnowski of New Britain. Msgr. Fiedorczyk was also a long-time member of the Polish American Historical Association. He was active in Polish affairs at Sacred Heart University in Bridgeport and at Central Connecticut State University (CCSU) to which he donated his papers and memoirs to the Connecticut Polish American Archives.
In 1987, the Rt. Rev. Msgr. Alphonse J. V. Fiedorczyk endowed the Polish Studies Program at CCSU with an annual Lecture in Polish American Studies in memory of the Vincent Fiedorczyk Family. After a long illness, Msgr. Fiedorczyk passed away on November 16, 1987.
The Fiedorczyk lecture was inaugurated in 1988 with a lecture delivered by Rev. Anthony J. Kuzniewski S.J. and titled "Francis Dzierozynski and the Jesuit Restoration in the United States."