Dr. Mieczyslaw B. Biskupski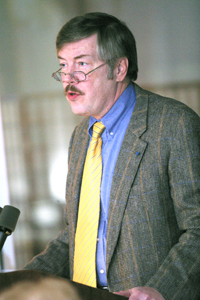 On October 28, 2002, Dr. Mieczyslaw B. Biskupski was invested formally as the holder of the Stanislaus A. Blejwas Endowed Chair in Polish and Polish American Studies at Central Connecticut State University. Hon. Przemyslaw Grudzinski, Polish Ambassador to the United States, joined CCSU President Richard L. Judd and other notables at the ceremony.

At Dr. Biskupski's appointment, following a national search to find a successor to the late Dr. Blejwas, President Judd said: "We are pleased to welcome to our university family such a distinguished scholar. The author of seven books and numerous prestigious journal articles and other commentary on Polish history and culture, Professor Biskupski is a specialist in modern Central Europe, particularly Poland, as well as international relations. Professor Biskupski possesses the credentials, the enthusiasm and the commitment to the ideal of 'Polonia' to bring further honor to the position."

Prior to coming to CCSU, Dr. Biskupski was Professor of History and Graduate Professor of International Studies at St. John Fisher College in Rochester, NY. Awarded a Yale Fellowship, Biskupski spent nine years in New Haven, earning his doctorate and teaching at his alma mater. During his academic career, he has held visiting professorships at the University of Rochester (in both history and political science), served as Fulbright Research Professor at the University of Warsaw, and, in 1997, was a Fellow of the Central European University of Budapest.

M. B. Biskupski (as he is identified in his scholarly writing) is the descendant of Polish soldiers, artists, and musicians who were forced to leave Russian Poland early in the 20th century for political reasons. They settled in Brazil, whence they came to the United States. Dr. Biskupski is the recipient of many academic and national awards, including the Honor Roll of Polish Science by the Polish Ministry of Education, and the Officer's Cross of the Order of Merit of the Republic of Poland. In 2011 he was elected president of the Polish Institute of Arts and Sciences of America.
Academic honors, fellowships, and distinctions
Books and Articles
Dr. Biskupski Presented with Prestigious Haiman Award