Why study at the CCSU IELP?
Academics
Start working toward your educational goals from Day 1!
At the IELP you start working toward your academic goals even in level 1.
You're an individual who works at your own pace!
At the IELP you can take as much time as you need or advance as quickly as you progress, even skipping levels, if you demonstrate proficiency.
The TOEFL exam is free!
The exam is offered three times per year for IELP students.
Don't pay money for unused textbooks!
Study with an online curriculum you can access from anywhere in the world, so that you never miss an assignment.


Campus Life

Full Access to everything CCSU has to offer:
Center for International Education
University Library
Computer Lab
Language Lab
Learning Center
University Health Services
Prevention and Counseling Services
Student Clubs and Social Organizations
You also have use of all of CCSU's recreational facilities, including an indoor swimming pool, and indoor and outdoor tennis courts, tracks, and basketball courts. Additionally, CCSU sponsors many cultural, social and athletic events, which you are encouraged to attend.
Explore New York City and Boston!


Conveniently located between New York and Boston, IELP offers a number of trips and activities, including visits to these iconic cities. CCSU's location is also perfect for experiencing the New England countryside.
Past trips have included:
Mystic Seaport
Newport, Rhode Island
A Native American Celebration at the Pequot Museum
Practice with Conversation Partners on campus!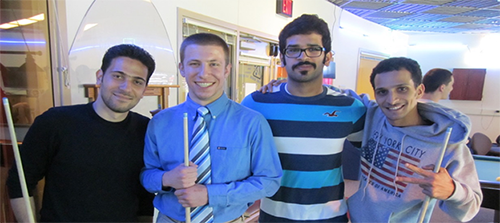 Are you interested in meeting an international student and learning about another culture? Spend one hour each week getting to know a student from another part of the world through the Conversation Partners Program. We pair volunteers with international students who are interested in improving their English conversation skills while learning about life in the United States. For more information, contact IELP@ccsu.edu