Why Study History?
View this video by Professor and former department chair John Tully.
Choosing a major involves taking many factors into account. Every student is different and has different skills and interests. Is majoring in history wise? Will a degree in history get me a job? Is it worth it?
YES, YES, and YES!
First, history is not memorizing names and dates. History, as a discipline, is what we do to the past in the present. At a deeper level, history is the questions we ask about the past and the meaning we find in our answers.
At its core, studying history means that you are honing skills that involve taking a lot of data, making sense of it, and communicating it clearly. There is not a good job out there that doesn't involve these basic skills. When you learn about the past, you are learning how to succeed in the future. The study of the past fosters the skills and habits of the mind needed to excel in today's world, both as an educated citizen and as a member of the economy.
Why study history at CCSU? The History Department at CCSU is a diverse, vibrant, and welcoming community of learners engaging with each other through an exploration of the past. Our faculty members are accomplished teachers and scholars who bring their years of education and research to every class. They help you develop the critical thinking and communication skills needed to succeed in every economic and civic venture you will face in the years after you leave CCSU.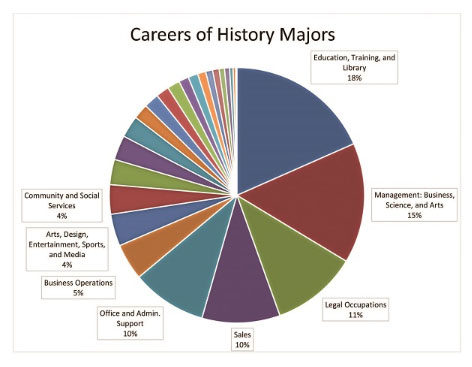 The job you will have in thirty years may not have been invented yet, but the skills honed in our classrooms, such as the ability to analyze, evaluate, and communicate complicated arguments, means you will be ready to tackle those new challenges and opportunities. Our students go on to pursue careers in teaching, academia, government, law, public history (museums and historic preservation), and in the private sector. Our graduates work for such varied employers as the US Department of Agriculture, the United States Senate, Crosskey Architects, ESPN, Traveler's Insurance, and many more.
"Why study history?
The answer is because we virtually must, to gain access to the laboratory of human experience. When we study it reasonably well, and so acquire some usable habits of mind, as well as some basic data about the forces that affect our own lives, we emerge with relevant skills and an enhanced capacity for informed citizenship, critical thinking, and simple awareness. The uses of history are varied. Studying history can help us develop some literally "salable" skills, but its study must not be pinned down to the narrowest utilitarianism. Some history—that confined to personal recollections about changes and continuities in the immediate environment—is essential to function beyond childhood. Some history depends on personal taste, where one finds beauty, the joy of discovery, or intellectual challenge. Between the inescapable minimum and the pleasure of deep commitment comes the history that, through cumulative skill in interpreting the unfolding human record, provides a real grasp of how the world works."—Peter Stearns