MA in History
The MA in History at CCSU provides students a solid, engaging, and rigorous experience in professional history. Some of our students go on to doctoral programs, some go into the law, others are teachers seeking an engaging field of study to expand their knowledge and meet state continuing education requirements. Whatever our students' goals, we tailor a graduate experience that is demanding and worthwhile.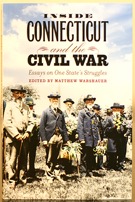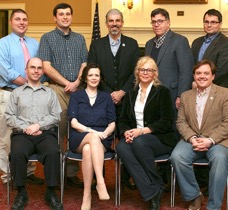 CCSU Professor of History Matthew Warshauer '90 and eight history alumni have produced a collection of essays: Inside Connecticut and the Civil War: Essays on One State's Struggles, edited by Warshauer and published by Wesleyan University Press. Contributors include (top row, l-r): David C. W. Batch MA '12;; Todd Jones BA '08;; Warshauer;; James E. Brown;; Michael Sturges BS '05, MA '13;; (bottom row, l-r): Michael Conlin BA '01;; Emily E. Gifford MA '11;; Carol Patterson-Martineau MA'13;; Luke G. Boyd MA '13;; and (not pictured) Diana Moraco MA '10.
With faculty who possess expertise in a broad array of historical fields, students have an opportunity to choose a specific area of interest and to work with a highly regarded scholar. We ask students to think about this early on so that we can pair them with the right faculty member. This helps to individualize a students' studies. Please see the faculty profiles to get a clear understanding of our wide-ranging expertise. You are welcome to contact any of our faculty to ask about working with them on your MA program.
MA in History Requirements
The MA in History requires 30 credits hours (ten courses, which includes 6 credit hours of thesis work).
Students entering the program will work with their assigned advisor to create a planned program of study tailored to their interests and goals.
Program requirements include:
HIST 501: The Professional Historian (3 credits)
HIST 502: Historiography (3 credits)
500-level courses in History (12 credits – 4 courses)
Electives in history or related fields (6 credits – 2 courses)
HIST 599: Thesis (6 credits)
No more than 6 credits may be taken in History 495 (special topics courses approved by the Graduate School) Admissions Requirements Apply to the MA in History Program
Apply to the MA in History Program
For more information contact:
Dr. Louise Williams
MA Coordinator
williamsl@ccsu.edu
860-832-2806


Dr. Matthew Warshauer
MA Coordinator
warshauerm@ccsu.edu
860-832-2803