Civil Engineering
Career Outcomes:
Civil engineers conceive, design, supervise, and maintain infrastructure projects and systems in the public and private sector. Our graduates ensure the performance of the roads, buildings, airports, tunnels, dams, bridges, water supply, and sewage treatment systems you rely on every day. Civil engineers commonly find employment with federal agencies, state agencies, and cities or towns. While government agencies are major employers, the many civil engineering consulting firms that serve federal, state and local government, and private enterprise employ the majority of our graduates.
Program Description:
On graduation, students have knowledge of the fundamental engineering sciences such as statics, dynamics, fluid mechanics, and mechanics of materials and a solid foundation in general civil engineering principles, enabling continued education at advanced levels. The program includes courses in environmental, geotechnical, surveying, structural, transportation, and water resources engineering.
The Civil Engineering program prepares students to successfully complete the National Council of Examiners for Engineering and Surveying (NCEES) fundamentals of engineering examination that is the first step toward professional engineering registration. Completion of the Civil Engineering program includes a requirement that students register to take the NCEES Fundamentals of Engineering (FE) Exam.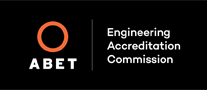 The Civil Engineering program is accredited by the Engineering Accreditation Commission (EAC) of ABET, www.abet.org.