Apply for 2019-2020 LCG Funding
Learning Community Groups
The primary goal of the Center for Teaching and Faculty Development (CTFD) is to create opportunities for CCSU faculty to share ideas about teaching techniques, pedagogy and professional development. By sponsoring several Learning Community Groups, each with about 5 to 10 faculty and each centered on a relatively narrow theme or teaching strategy, the Center links faculty from across departments.
Studies show that teachers make the most headway with new strategies when they work together with other faculty in small groups then implement and assess new techniques over one or two terms. The CTFD Learning Community Groups meet throughout the academic year on a schedule they determine and then report about their work at Faculty Day.
2019-2020
Increasing Retention Among Writing 100 Cohort Through Composition Program-Writing Center Intervention
The English Department's rhetoric and composition faculty want to measure the potential benefit of repeated Writing Center peer tutoring sessions to students enrolled in Writing 100, the department's developmental writing course.
We will create an experimental project where one group of Writing 100 students is assigned to visit the Writing Center at least twice while working on an essay. The cohort will analyze before and after samples from both groups, looking for evidence of development in such areas as: higher order concerns (development, organization, purpose, focus) and lower order concerns (syntax, diction, punctuation, spelling). For more information on this LCG, please contact James Austin.
Universal Design for Learning (UDL) Strategies to Teacher/Leader Preparation Courses
This LCG will focus on how to use Universal Design for Learning (UDL) strategies to design digital learning components of teacher/leader preparation courses. We will identify at least one course from different teacher/leader preparation departments and revise the courses to provide multiple pathways for success for students using UDL methodology. Investing in the understanding and application of UDL methodologies will support the teaching and learning of content for various teacher/leader preparation programs and give faculty an opportunity to enhance the educational experiences for students. For more information or to join this LCG please contact Candace Barriteau-Phaire.
Junior Faculty Connect: A Space to Share Struggles, Stategies, and Successes
This Learning Community Group is geared toward junior faculty on the tenure track. We will meet monthly throughout the academic year to discuss challenges, accomplishments, and best practices. Two books will be reviewed to support our professional priorities; one on academic publishing and the other on teaching techniques. The group is open to all disciplines to promote open communication and collaboration.
For more information and to join this LCG please contact Carolyne Soper.
Study Habits for Effective Learning
Seeking to guide students on how to learn effectively with deeper learning. Finding effective techniques for students to achieve better result and avoid distractions as well as avoiding unproductive techniques. For more information and to join this LCG please contact Mitch Charkiewicz.
Age-Friendly University Learning Community
In May of 2017, CCSU joined the Age-Friendly University (AFU) global network and adopted the 10 AFU principles, which serve as a guiding framework for shaping age-friendly programs and practices. Given the aging trend, with people living longer and healthier lives both locally and globally, we have an obligation to prepare students for an age-diverse workforce and society. There are many ways to be more age inclusive in the classroom, such as infusing aging content relevant to your discipline into your course, creating an assignment that has students apply course content to an aging issue or challenge, or inviting older adults into the classroom to share their perspectives and expertise. This learning community will share best practices for infusing aging and intergenerational learning into the curriculum and encourage faculty to think about how they might participate in the AFU initiative at CCSU to help combat ageism, and promote lifelong learning, health, and well-being. For more information and to join this LCG please contact Carrie Andreoletti.
Brave Teaching: A CCSU Learning Community Group
Using the concepts of Brene's Brown's research-based Daring Way process, this LCG will focus on how we show up in our classrooms, with our students, and in our lives. The group will explore our own vulnerability and resilience and its impact on our professional and personal arenas. We will develop ways to make room for being authentic in the classroom and in our lives. We will also learn to encourage our students to show their vulnerability and create space for students to grow and develop bravery in their academic and personal lives. We, as teachers, will integrate the process of bravery to develop trust and connection with our colleagues and students. We will also explore the armor we wear in academia and its impact on our self-compassion and performance as teachers.
For more information and to join this LCG please contact Cherie King.
2018-2019
The 5 Elements of Effective Thinking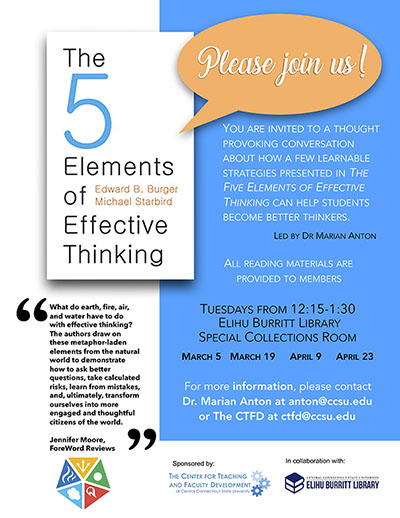 Please join us for a a though provoking conversation about how a few learnable strategies presented in The Five Elements of Effective Thinking can help students become better thinkers.
The group will meet in Spring 2019
Tuesdays from 12:15-1:30
Elihu Burritt Library
Special Collections Room
March 5
March 19
April 9
April 23
The book will be provided to all participants.
For more information, please contact Dr. Marion Anton at anton@ccsu.edu or the CTFD at ctfd@ccsu.edu.
2017-2018
Open Educational Resources (OERs) Learning Community Group Part 2: How to Convert to / Deploy OERs in the Classroom
This LCG is focusing on development of a process to make it easy as possible for interested faculty members to convert their courses to being (partially or completely) based on OERs.
Critical Thinking Learning Community Group
This LCG is exploring a 6-step process developed by Steven Pearlman and Davis Carillo at St. Joseph's University. Participants are reading and discussing the Faculty Edition of the Critical Thinking Initiative workbook and put the methods into practice in their own classrooms.
Developing Productive Discourse in Teaching Mathematics
This LCG asked participants to share which tools they choose to incorporate into their teaching using newly published materials provided. The group created quick snapshot paragraphs of how each participants' CCSU teaching or work with local K-12 teachers was impacted as a result of using the tools provided in the development materials.
Open Educational Resources (OERs) Learning Community Group Part 2: How to Convert to / Deploy OERs in the Classroom
This LCG is focusing on development of a process to make it easy as possible for interested faculty members to convert their courses to being (partially or completely) based on OERs.
Reacting to the Past Role-Playing Simulations
This LCG centered on developing a Reacting to the Past (RTTP) community of practice that introduced these highly effective role-playing simulations to CCSU's pedagogy. The group used the book, Minds on Fire: How Role-Immersion Games Transform College written by Mark Carnes for the LCG.
2016-2017
The Climate Change Learning Community Group
This group investigated ways in which to participate and support the 10th Annual Global Environmental Sustainability Symposium presented by GESAC-The CCSU Global Environmental Sustainability Action Coalition.
Leveling the Playing Field: Assessing the Impact of Universal Design for Learning (UDL) Tools in our Classrooms
This Learning Community Group provided faculty with access and training to AudioNoteTaker, software designed to improve student learning at the college level. Outcomes of this project included a study of the impact of AudioNoteTaker.
Culturally Relevant Teaching at the Collegiate Level
The LCG read and discussed the current literature on culturally relevant teaching, pilot instructional strategies learned and shared lessons learned. The goal was to better address the needs of culturally and linguistically diverse students at the collegiate level.
Exploring Open Educational Resources at CCSU
This OER explored the uses and potential of Open Educational Resources, with the goal of selecting one course to convert all or partially to OER for deployment.