Electronics Technology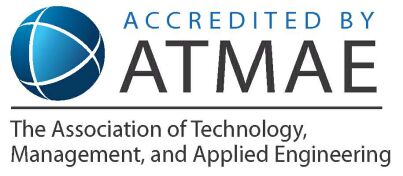 Bachelor of Science in Electronics Technology program is accredited by the Association of Technology, Management, and Applied Engineering (ATMAE), 1390 Eisenhower Place, Ann Arbor, MI 48108, tel. 734-677-0720, (http://www.atmae.org/). ATMAE is a member of the Association of Specialized and Professional Accreditors (ASPA). This accreditation provides recognition of the attainment of professional goals and standards for Industrial Technology. The curricular pattern is reviewed in terms of stated objectives, content, methods, supporting resources and evaluation systems.
Program Description
Electronics Technology is an applications oriented program that includes studies in applied mathematics and science, electronics principles, techniques, materials and devices. The program provides students with a management background that promotes advancement within their field. Core courses in Electronics Technology include 33 semester hours of basic computer applications, electrical principles, analog and digital circuits, electromechanical converters, electronic communication and microprocessor design and programming. Additional elective hours provide the flexibility to study topics of interest that also increase employment opportunities. Topics include robotics, computer programming, computer networking, and automated manufacturing systems. In addition, general education requirements (44 - 46 credits) promote communication and critical thinking skills as well as provide the mathematical and scientific knowledge necessary for success in the electronics field.
Please click here for General Program Outcomes and Program Learning Outcomes!
Career Outcomes
The Electronics Technology program is accredited by the Association of Technology, Management, & Applied Engineering (ATMAE). Accredited programs must comply 19 standards on faculty, curriculum, laboratory, students and institutional support. Technologists normally work as members of "engineering teams" in applied design, product development, installation, maintenance, manufacturing, production, or operations. They may also work in technical services including field engineering, customer support, marketing, and sales. Graduates work in a wide variety of industries including manufacturing, utilities, and telecommunications. Graduates from the program have been offered positions in Eversource, Electric Boat, Trump Engine Control Group, 3M and various other companies and research organizations. Survey result over the past 4-year graduated students shows that the salary of 50% of the alumni is over $80,000 and all salary is over $73,000.
Program Sheet and Program Flowchart
Bachelor of Science in Electronics Technology
Program Data and Student Achievements:
Enrollment Data (Search for "Electronics Technology" under "Program Name")
Completion Data (Search for "Electronics Technology" under "Program Name")
University Fact Book (annually reported data including graduation and retention rates)
Click here for more information on graduates such as Mean grade point average, employment, salary, promotion or professional development.
Type of Degree:
Bachelor of Science in Electronics Technology
Contact: