an exciting new degree program
B.S. in Graphics Technology
Career Tracks:
Networking Information Technology & Interactive Computer Graphics Technology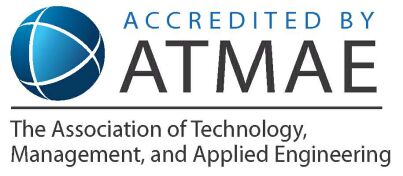 Bachelor of Science in Graphics Technology program is accredited by the Association of Technology, Management, and Applied Engineering (ATMAE), 1390 Eisenhower Place, Ann Arbor, MI 48108, tel. 734-677-0720, (http://www.atmae.org/). ATMAE is a member of the Association of Specialized and Professional Accreditors (ASPA). This accreditation provides recognition of the attainment of professional goals and standards for Industrial Technology. The curricular pattern is reviewed in terms of stated objectives, content, methods, supporting resources and evaluation systems.
Program Description:
Over the past two and a half decades, the printing industry (graphic arts/graphic communications) has been revolutionized by the influx of technology. As part of the graphic communications group of industries, it is ranked among the largest in the United States. Technology, workflow, management strategy, markets and customer expectations have changed. These changes have resulted in both opportunities and challenges and have created a need for college graduates who understand the entire digital graphics and print media process and possess the competencies necessary to manage print and non-print media related operations. Introduction of the internet led to the digital revolution dramatically changing the way we interact and communicate. In this scenario, print is just one of many media channels which consumers can access.
The value and role of printing continues to change as new technology is introduced in the industry. Today, the use of print is merged across multiple digital media communications channels, such as: web, mobile, and tablet publishing. Due to advancements in computer networking and web enabled media workflow automation technologies, graphics and print media have become a powerful multi-channel marketing and communications tool. Greater technical competence and expertise is required to control and manage the technologies and resources used in the graphics and print media industry.
The industry market segments like digital pre-media, photography, animation, video, web publishing, printing and packaging, and multimedia are merged together to create many new career opportunities. The degree program (B.S. in Graphics Technology) will prepare graduates for careers in the digital graphics, print media, and associated industries specializing in: Internet, eMedia, 2D/3D Animation, 3D Printing, Game development, Visual effects, Interactive media, Transmedia, Motion media, Media workflow automation, Commercial Printing, Digital Printing, Package Printing, Advertising/Display Graphics, Photography, Direct Marketing Technologies and Imaging. This program prepares its students to be managers who are leaders, motivators, and communicators, and can deal with business issues ranging from policy information to production efficiency.
The B.S. in Graphics Technology is the only print based program in New England and continues to serve local and regional industries with graduates. This program covers: Digital pre-media, digital printing, color reproduction, digital photography, graphic management information systems, press and post-press operations, as well as science and analytical mathematics, supplemental computer related courses, business and management courses round out the curriculum. All of the courses allow digital media content to be created and shared via computer-based publications, printed materials, interactive formats, as well as emerging digital media technologies.
The faculty that delivers this program, along with department leadership and an active Industrial Advisory Board, are committed to identifying emerging technologies and incorporating them into the curriculum as industry changes. The program requires 44 credit hours of university core courses. In addition to meeting university core curriculum requirements, students must complete 52 credit hours of major core requirements, students must select one of two career tracks (15 credit hours) to complete the 120 credit hour program (B.S. in Graphics Technology).
Please click here for General Program Outcomes and Program Learning Outcomes
Career Outcomes:
The Graphics Technology program is accredited by the Association of Technology, Management, & Applied Engineering (ATMAE). Accredited programs must comply 19 standards on faculty, curriculum, laboratory, students and institutional support.
The majority of our graduates are employed by the industry as: Network enabled Media Technologists, Workflow Analysts, Integrated Media Graphic Designers, Web content creators, Management trainees, Production Supervisors, Job Planners and Estimators, Customer Service Representatives, Pre-media Technologists, and Digital Media Color Quality Coordinators. Some of the program graduates are owners of digital graphics, print and non-print media businesses, while other have been offered positions in companies such as Data-Mail, Packaging companies, Hitchcock Printing, RR Donnelley, Konica, Minolta, Essex Printing, etc. Entry level Management Trainee/Middle Managers salary ranges from $35,000 ~ $53,000.
Program Sheet and Program Flowchart:
Bachelor of Science in Graphics Technology
Program Data and Student Achievements:
Enrollment Data (Search for "Graphics Technology" under "Program Name")
Completion Data (Search for "Graphics Technology" under "Program Name")
University Fact Book (annually reported data including graduation and retention rates)
Click here for more information on graduates such as mean grade point average, employment, salary, promotion or professional development.
Type of Degree:
Bachelor of Science in Graphics Technology
Website:
Contact: