Biomolecular Sciences (BMS)
In the BMS department you will find student-centered classes and a program that will prepare you for careers in biomedical research and health professions.
All students engage in research projects with BMS faculty. Student research is a high impact experience that enhances understanding of molecular biology and provides hands-on experience with in-demand techniques.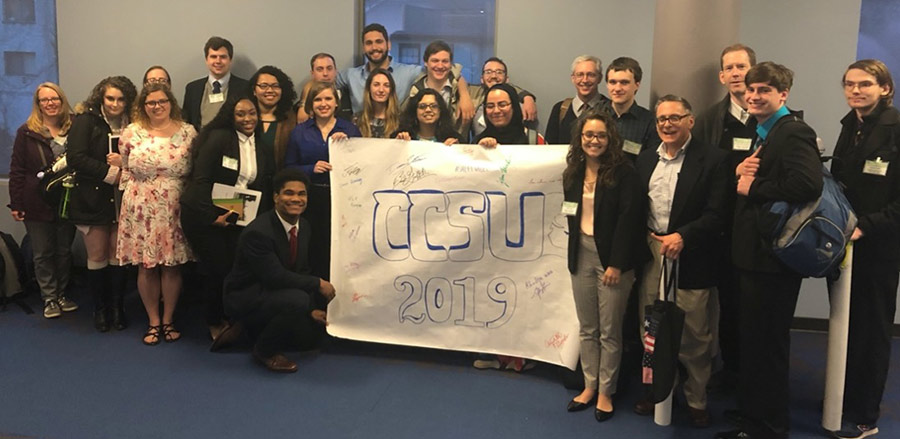 Students present their work at research conferences
What our alumni are saying
Matt Rubenstein (CCSU '07) D.V.M, veterinarian
What I did at CCSU that helped me to achieve my goals was getting an absolute rock-solid science education. My first year of vet school was fairly easy because of the amazing science foundation I had.
Elisabeth Adkins Marnik Ph.D., (CCSU '11) Assistant Professor, Molecular Biochemistry
While at CCSU I did undergraduate research with Dr. Thomas King. It was during the years I worked with him that I fell in love with research and the process of science.
Michelle Kayser M.D. (CCSU '13), pediatrician
I credit my success to the BMS department. I wouldn't have discovered my passion without BMS.
Catherine Schuberth-Galdamez B.S.N (CCSU '18), oncology nurse
Everything I did at Central helped me reach my goals, my experience doing research and all my BMS courses taught me to think critically which benefited me not only through the accelerated nursing program but also in my nursing career.
Learn about our students
Profile: BMS major, Amellia Lyn
Since 2018 Amellia Lyn has been the smiling face of Student Service Center, now located in room 101 in the Applied Innovation Hub, the new engineering building next to the library. Amellia is not just part of CCSU at the center from 8 am-4 pm, she's a full-time student here as well. Her activities on campus don't stop there. A BMS major, she is chair of the CCSU Biology Club and also is a mentor for other students.
Interview with Master's student, Aitana Sandoval
When are you expecting to finish your Master's degree and what took you on that path?
I'm expecting to finish my Master's this spring. I transferred to CCSU around the same time that I decided a career in medicine wasn't what I wanted. I was floundering a little when some faculty and students encouraged me to explore more of the courses and research opportunities in the BMS department. The BMS department as a whole and the chemistry department were both incredibly welcoming and I got a chance to try out research in different labs and get hands-on experience on what benchwork was like. Research can be frustrating at times, but I really enjoy it--it's always amazing. It's been those experiences that led me to choose a career in science.
Learn about advances in biomedical research in our courses
Some recent course topics:
Bacterial toxins
Prions
Stem Cells: Lab to Clinic
Vaccine Development
Cancer Biology
Regeneration
Molecular and Cellular Immunology
Virology
Upcoming courses:

Covid Therapy and Treatment (Summer 22)
Advances in Cell signaling (Summer 22)
Genetic Technology in Medicine (Summer 22)
Clinical and Applied Genomics (Fall 22)
Global Health Issues (Fall 22)
Virulence and Bacterial Pathogenesis (Fall 22)