Current Show
Capstone 2019, May 2-9, 2019
The Central Connecticut State University Art Gallery is proud to present Capstone 2019, an exhibition showcasing the artwork of the 2019 senior undergraduate art majors. Comprising of a variety of works across different disciplines, Capstone is the celebratory conclusion of the students' period here at CCSU which propels them into their lives as independent artists.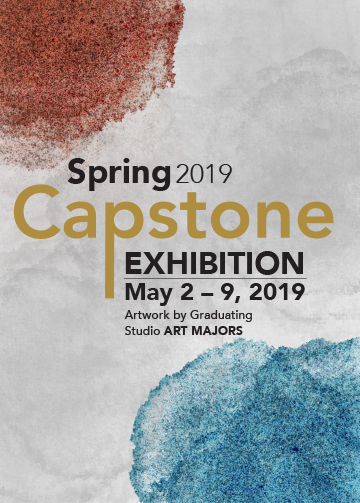 The CCSU Art Gallery has long shown the work of CCSU faculty, students, and alumni, as well as contemporary artists from around the world. All gallery events are free and open to the public, with free parking available in Welte Garage attached to the building.
For more information about the gallery or upcoming exhibitions, please visit the gallery website or contact the gallery at (860) 832-2633.
Capstone will run from May 2 – May 9, with scheduled gallery hours from 1-4pm Monday through Friday.
Capstone title design by CCSU Graphic Design student, Cari Codino.