The Kiyomi Kutsuzawa Scholarship in Anthropology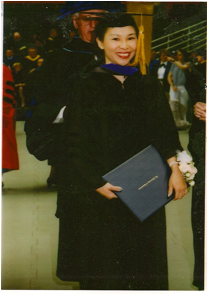 Kiyomi Kutsuzawa was a mid-1980s graduate of CCSU Anthropology who received her PhD in Anthropology in 1998 from the University of Connecticut. Her dissertation was entitled, " GENDER, WORK, AND THE POLITICS OF IDENTITY: WORK COLLECTIVES AND SOCIAL ACTIVISM AMONG MIDDLE-CLASS HOUSEWIVES IN CONTEMPORARY JAPAN." Kiyomi was an unflagging supporter of our department and discipline. She passed away in February, 2005.
The scholarship, two of which are awarded every year, consists of a stipend of $750, and is intended to help the honoree defray the costs of books, tuition and/or course or study abroad.
The scholarship is targeted to assist anthropology students who show promise of outstanding academic career potentials and who have an interest in gender-related research or research and practices related to social activism.
The Department also encourages additional donations to the Kiyomi Kutsuzawa Scholarship Fund to assist future deserving students. Contributions should be addressed to the CCSU Foundation, Davidson Hall, 1615 Stanley Street, New Britain, CT 06050 and specified for the Kiyomi Kutsuzawa Scholarship Fund.