President
Dr. Zulma Toro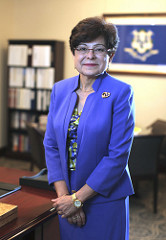 In 2017, Dr. Zulma Toro became the 13th President of Central Connecticut State University, the oldest publicly supported institution of higher education in Connecticut. She is the first female and first Hispanic president in Central's history.
With an exceptional record of creating, fostering, and developing community engagement programs and activities, President Toro has a legacy of working with state legislators to enhance the social, economic, and cultural impact of higher education.
Dr. Toro has long been an avid scholar and a champion of making higher education more diverse and more inclusive. Her publications have testified eloquently about the national imperative of preparing women for careers in engineering and STEM, and she has spoken passionately about the challenges and opportunities for women of color in realizing their full potential and breaking all manner of "glass ceilings."
Dr. Toro earned a PhD from the Georgia Institute of Technology, a Master's degree in industrial and operations engineering from the University of Michigan, and an undergraduate degree in industrial engineering from the University of Puerto Rico. Before coming to CCSU, she served as, most recently, the Executive Vice Chancellor and Provost at the University of Arkansas, Little Rock. Prior to that, she was the Dean of the College of Engineering at Wichita State University, Kansas; the Dean of the School of Engineering and Applied Science at the University of New Haven, Connecticut; and the Chancellor of the University of Puerto Rico at Mayaguez.