CENtix Box Office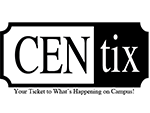 Tickets are available on-line and at the CCSU Student Center CENtix Box Office for campus activities. For more information, click on tickets.ccsu.edu. The CENtix Box Office is located at the Information Desk, located in the Student Center's main lobby. For ticket prices and availability, please contact the CENtix Box Office at (860) 832-1989.
CENtix Ticket Order Form (for Event Planners)
To put tickets on sale, please click on the CENtix Ticket Order Form link to download the form. The form requires the Adobe Acrobat Reader plug-in. If you don't have it, you may download it here. The completed form should be emailed to Tiffany Moffo Simpson, Assistant Director for Student Center Services or stop by her office in Student Center Room 116. A Box Office Supervisor will contact your organization to review your details. Please allow 10 business days for tickets to be available for sale. Client(s) providing a list of names must submit form & list 14 business days in advance. For more information on CENtix, please click here. We'd be happy to help!
Other Services Offered
Fax Machine Fees
When sending a fax, it is $1.75 for the first page and $1.00 for each additional page. For overseas faxes, it is an additional $2.00. The costs for receiving a fax is $0.50 for the first page and $0.25 for each additional page. Fax # is (860) 832-1971.
Locker Rentals
Day lockers: $.25/Day
Per semester:
Large lockers: $8.00/semester
Small lockers: $5.00/semester
Full year:
Large lockers: $24/year
Small lockers: $15.00/year
includes spring, summer, and fall semesters
$10 key deposit
Mailbox Rental
Per semester: $5.00 /semester
Full year: $15.00 includes spring, summer, and fall semesters
CT Transit Bus Passes
1 day, 3 day & 5 day CT Transit Bus Passes & 10 Ride Ticket/Local are also available for sale.