European Studies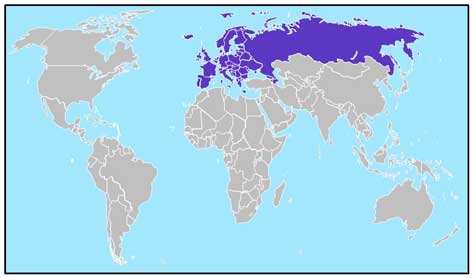 Program Overview
With their highly advanced industrial base and skilled workforce, the industrialized countries of Europe have long been major trading and strategic partners for the United States, or to the east of the continent competitors and adversaries, at times. But since the end of the Cold War, the European Union has received a massive transfusion of new energy and human capital with the inclusion of historic countries of Central and Eastern Europe like Poland, Hungary and the Czech Republic, while Russia and other countries further to the east continue to reshape their identities in the aftermath of the Soviet Union. Whatever the resolution of Europe's financial, institutional, and political crises, the countries of Europe will continue to play a major role in the world economy, international politics and world culture. Central Connecticut State University offers a B.A. and M.S. degrees in International Studies with regional specialization in European Studies, allowing exploration of the EU, the Russian Federation, and any region in between.
Students are invited to combine a wide range of methodological approaches to the area of Europe. In consultation with their adviser, students design an interdisciplinary plan of study that best fits their interests in the area. Students write theses on a wide range of topics in politics and culture.
Lecture series offered by diplomats, corporate and non-profit executives, activists, and internationally recognized scholars enrich the program. Students can participate in overseas experiences, choose the country or countries they want to study, and select a relevant foreign language(s) among French, German, Italian, Portuguese, Polish, or Spanish. Graduates may be able to find work with international marketing firms, international organizations, international communications, multicultural institutions, European companies or U.S.-based companies with European operations.
Polish language courses are offered by the Modern Language department in support of the undergraduate and graduate programs. It should be noted that Russian language courses are no longer offered at CCSU, but could be taken through the university's Consortium agreements, if coordinated through out Modern Language Department. Additionally, several opportunities for international exchanges and courses abroad make further language learning, cultural immersion, and special projects possible.
NOTE: The Western and Eastern European Studies programs and committees were recently merged to focus on the growing interconnections and interdependencies of the historically divided regions. European Studies includes any focus on northern, southern, western, or even eastern regions of Europe, including the Eurasian region of the current Russian Federation and formerly Soviet dominated regions and peoples.
Coordinator
Dr. Matthew Specter
Department of History
Central Connecticut State University
1615 Stanley Street
New Britain, CT 06050
Phone: (860) 832-2692
European Studies Committee
Matthew Specter, Ph.D., History
Richard Benfield, Ph.D., Geography
Jay Bergman, Ph.D., History
M. Biskupski, Ph.D., History
Mitch Charkiewicz, Economics
Matthew Ciscel, Ph.D., English
Douglas Engwall, Ph.D., Psychology
Ivan Gotchev, Ph.D., Mathematical Sciences
Tatiana Gotcheva, Ph.D., Mathematical Sciences
Paul A. Karpuk, Ph.D., English
Paloma Lapuerta, Ph.D., Modern Languages
Carlos Liard-Muriente, Ph.D., Economics
Angela Morales, Ph.D., Modern Languages
Maria Passaro, Ph.D., Modern Languages
Carmela Pesca, Ph.D., Modern Languages
Paul Petterson, Ph.D., Political Science
Karen Ritzenhoff, Ph.D., Communication
William Tracey, Ph.D., Management and Organization
Ron Todd, M.F.A., Art
Lilian Uribe, Ph.D., Modern Languages
Louise Williams, Ph.D., History
Ewa Wolynska, Library Special Collections
Major in International Studies with a Concentration in European Studies - 39 Credits
Minor in European Studies - 18 Credits
Graduate (MS) in International Studies with a Specialization in European Studies - 30 Credits
Study Abroad Opportunities
Students in the European Studies program can apply to study abroad at any of the institutions listed below. For more information about studying abroad and for a full list of CCSU's partner and affiliate universities worldwide, please visit CIE.
Czech Republic:
University of Economics (Prague)
France:
Universite de Caen
Germany:
Free University of Berlin (Berlin)
University of Freiburg (Freiburg)
University of Heidelburg (Heidelburg)
University of Hohenheim (Hohenheim)
University of Karlsruhe (Karlsruhe)
University of Konstanz (Konstanz)
University of Mannheim (Mannheim)
University of Stuttgart (Stuttgart)
University of Tubingen (Tubingen)
University of Ulm (Ulm)
Greece:
American College of Thessaloniki
Hungary:
University of Pecs (Pecs)
Ireland:
Dublin Institute of Technology (Dublin)
Institute of Technology - Carlow (Carlow)
Trinity College (Dublin)
University of Limerick (Limerick)
Italy:
Universita Catolica del Sacro Cuore
Universita per Stranieri di Perugia
Netherlands:
Leiden University (Leiden)
Poland:
Wroclaw University of Technology (Wroclaw)
Russia:
Russian Studies majors have the option of fulfilling their study abroad requirement by attending any one of a number of programs in Russia, such as the CIEE, ACTR, or University of Arizona summer, semester, or academic year programs.
Spain:
Nebrija University (Madrid)
Universidad Complutense (Madrid)
Universitat Autonoma de Barcelona (Barcelona)
University of Barcelona (Barcelona)
University of Leon (Leon)
University of Salamanca (Salamanca)
University of Sevilla (Sevilla)
Sweden:
Linnaeus University (Vaxjo)
United Kingdom:
Kingston University (London, England)
Lancaster University (Lancaster, England)
Queen Mary University of London (London, England)
University of Bolton (Bolton, England)
University of Central Lancashire (Preston, England)
University of Cumbria (Lancaster, England)
University of Hertfordshire (Hatfield, England)
University of Kent (Canterbury, England)
University of Manchester (Manchester, England)
Queen Margaret University (Musselburgh, Scotland)
University of Stirling (Stirling, Scotland)
University of Strathclyde (Glasgow, Scotland)