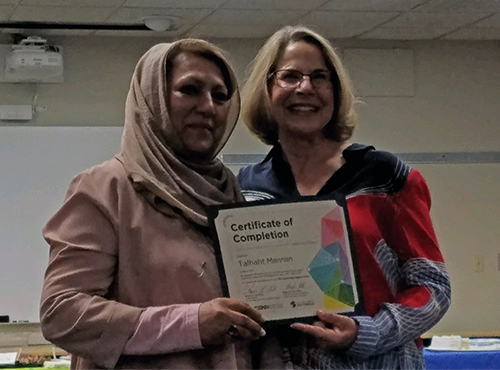 The Board of Directors of the Early Learning Program @ CCSU congratulates our Director, Talhaht Mannan, who is now an Ambassador for UCONN's PK-3 Leadership Program.
Early Learning Program, Inc.
Talhaht Mannan graduated from Fairleigh Dickinson University with a pre-med. major and minor in Child Psychology. She completed her two masters' degrees in Education Leadership and Early Childhood Education from Central Connecticut State University in 2010. She has been an Early Childhood administrator, coach, mentor, and consultant for over 30 years. She is dedicated to empowering early childhood teachers and developing quality programming for young children. She believes that "knowledge is power" and is committed to installing a "love for learning" in every child to help them be successful learners. She believes in culturally responsive teaching and inspires staff/families to use, display, and speak languages present in the classroom by collaborating with families. She speaks, reads, and writes in both English and Urdu. Ninety percent of her teaching staff are culturally diverse and share their students' cultures, minimizing differences between home and school.
Early Learning Program, Inc.
Lena holds a bachelor's degree in Teaching from Syria where she was a certified teacher in Language Arts. She holds an associate's degree in Early Childhood Education from Tunxis Community College. She is currently enrolled at Charter Oak State College to receive her bachelor's degree in Early Childhood Education. She is a mother of two children and is passionate about working with children. Lena uses her knowledge, skills and experience to promote a positive learning environment for children as well as fellow coworkers. She is committed to providing a caring, safe and healthy atmosphere for preschoolers while also ensuring that everyone has fun. Lena helps children build promising relationships with both their peers and adults. Lena fluently speaks, reads and writes in English, Arabic, and Assyrian.
Early Learning Program, Inc.
Katarzyna Radlak has her master's degree in Russian Philology from Poland, and a Bachelors of Science degree with a concentration in Early Childhood Education from Charter Oak State College. Katarzyna enjoys being around preschool children, and is committed to her responsibilities as a lead teacher. She helps to create a safe, loving and caring preschool environment, where learning takes place through open choice and hands-on activities. She represents Polish culture, and speaks and writes in Polish fluently. She is passionate about being a positive role model to children from diverse cultures. She appreciates culturally different strengths and provides an enriching and responsive learning environment.
Home | About Us | Curriculum | Our Staff | Program Schedule | Registration Information | Tuition