Alumni Association Awards
The 2015 Alumni Association Awards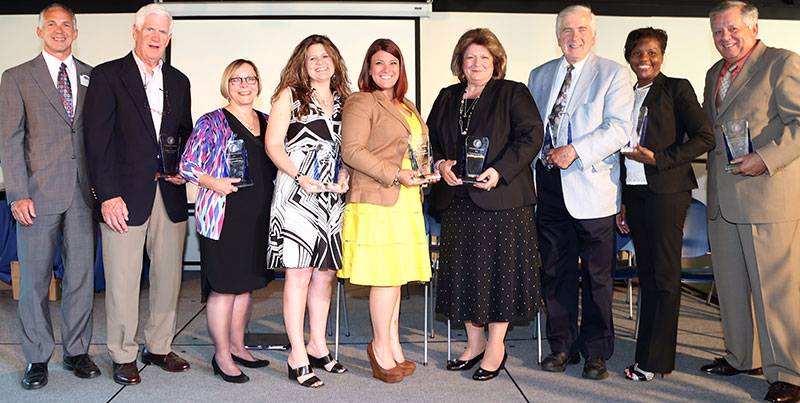 (l-r) CCSU Alumni Association President Ed Vescovi with award recipients Carl Krein, Sue Ann Collins, Jude Page, Mayor Erin Stewart, Robin Crothers, Robert Smith, Nicole Sanders, and David Monti
Eight individuals who continue to make a positive difference in the Central community were honored at the 2015 CCSU Alumni Association Awards. The annual ceremony recognizes alumni and friends of the University who make significant contributions to help advance its mission and bring positive recognition to CCSU.
Sue Ann Collins '75 (BA, Mathematics) and David Monte '64, MS '68 (Literacy, Elementary and Early Childhood Education) each received the Distinguished Alumni Award, recognizing outstanding professional and/or personal achievements, garnering credit for both the alum and the University.
Collins is senior vice president and chief actuary at TIAA-CREF, overseeing the company's actuarial activities. She also serves on the CCSU Foundation Board of Directors, and president of the Hartford Stage Company's Board of Directors.
Monte has been teaching at CCSU for over 40 years, and is currently a doctoral faculty member in Education Leadership. Serving on the School of Education & Professional Studies Advisory Board, he's also held roles as chairperson of the Graduate Studies Committee, and president of NEW, the self-governing body of the School of Education & Professional Services.
Receiving the 2015 Young Alumni Award were New Britain Mayor Erin E. Stewart '09 (BA, Political Science and Public Administration) and Judith "Jude" (Page) Barry '97. The award recognizes professional and/or personal achievement of CCSU alums 40 years of age or younger.
As the youngest mayor in the history of New Britain (elected in 2013 at the age of 26) Stewart is the city's 40th mayor, and only the second woman to hold office. Some of her initiatives include curbing homelessness through the creation of the Building Hope Together Task Force: New Britain's Workplan to End Homelessness; and developing an eco-friendly "Smart City" plan, spearheading the largest solar power project in city history. She is a proud, lifelong learner of the state's public school system, and education advocate, previously serving on the New Britain Board of Education.
Representing Aflac Insurance since 2001, Barry (BS, Business) set the record for Connecticut's highest sales figures, qualifying for the President's Club sales award more times than any agent in the state. As a member of Aflac's prestigious Million Dollar Club and president of CCSU's Class of 1997, she attributes her career success to the meaningful, long-term relationships developed with her 150-plus clients.
Nicole Sanders MS '05, EdD '09 (Educational Leadership) and Robert J. Smith '68 (Education) received the Community Service Award, recognizing extraordinary community service, and contributions advancing the improvement of society.
As principal at Northend Elementary School in New Britain, Sanders was named Civil Educator of the Year, the New Haven Savings Bank Teacher of the Year in Excellence Award, and the 2013 NAACP Woman of the Year.
Recently retiring as founding director of the Center for Arts and Humanities at the University of St. Joseph, Smith has received numerous awards for his contributions to the arts. He served as chairman of English and director of Theatre at Woodstock Academy, adjunct professor in Theatre at CCSU, Graduate Education at Eastern Connecticut State University, and consulting faculty in Theatre at Charter Oak State College.
Robin Crothers and Carl F. Krein received the Friends of the University Award, recognizing a non-graduate individual or organization demonstrating distinguished leadership and/or service to Central.
Actively involved in Blue Devils Athletics, Crothers honored her late husband, Raymond, an accomplished runner, inducted in 1983 to the Blue Devil Athletics Hall of Fame. In tribute, the Alumni Track and Field Club and Athletics Department annually host the Raymond Crothers Memorial 5K X-C Race, awarding the Crothers Scholarship to a student athlete embodying high levels of dedication, talent and achievement in track and field.
As CCSU's retired head athletic trainer and former US Olympic athletic trainer, Krein established a nationally respected athletic training curriculum, and a scholarship fund in his namesake. Inducted into the CCSU Athletics Hall of Fame in 1995, Krein received CCSU's Distinguished Service Award, and the Distinguished Athletic Training Educator Award of the National Athletic Trainer's Association.
—KEITH HAGARTY